Rock-and-roll yogi soul on a mission; Go OM Yourself for the edgy yogi. Finally a brand that feeds your spirit and your hangry heart. It's today's answer to Zen wear for anyone who likes a little street cred' with their love and light. A place where zen and street style go to totally make out. Go OM Yourself for the edgy yogi picks right up where the yoga t-shirt/tank top market fails.
After nine years of practicing yoga, I go "thug" and get my 200-Hour Yoga Teacher Certification. It was an awesome journey, and still is, as in yoga the discoveries are daily (for me). Through my training, I study the Eight Limbs of Yoga and the seven chakras. I learn how to structure a class, and to apply themes to a series of asanas to construct a fluid and meaningful vinyasa.
One day, as I prepare a sequence that focuses around the throat chakra, my yoga practice forever changes.
On a whim, I decide to seek out different mudras that stimulate the chosen chakra center, and give the flow a little flavor. At the time, I have no idea that the mudras themselves are a vast and powerful discipline under the yogic umbrella of philosophies. I'm instantly FASCINATED by their beauty and metaphysical capabilities. So, I dive in.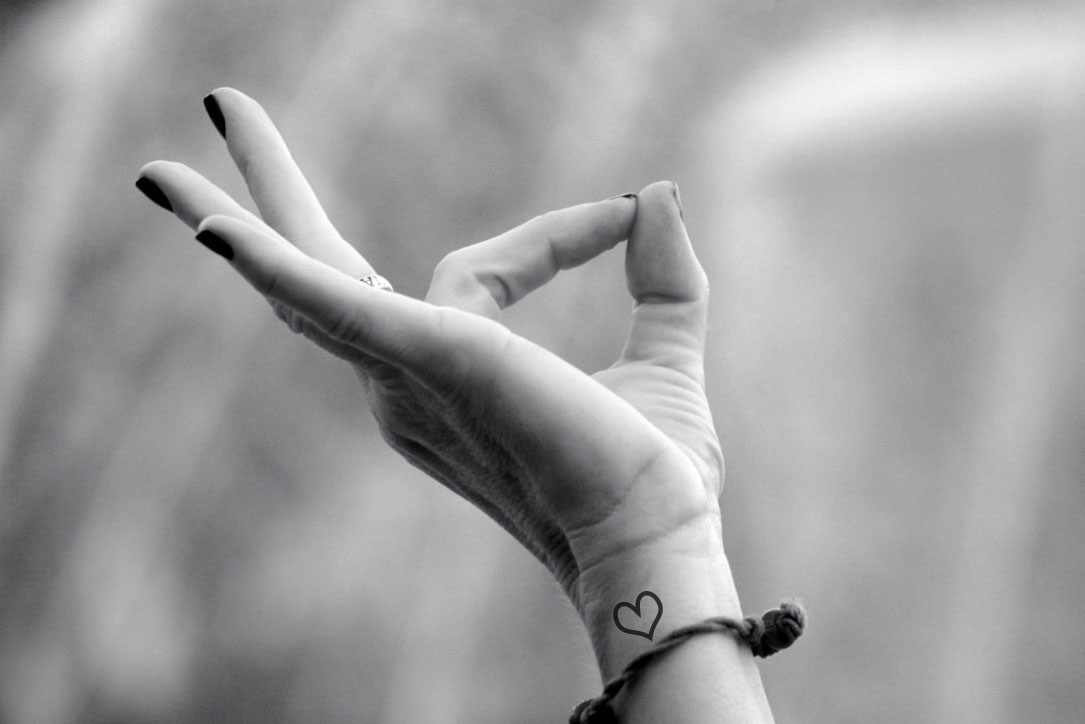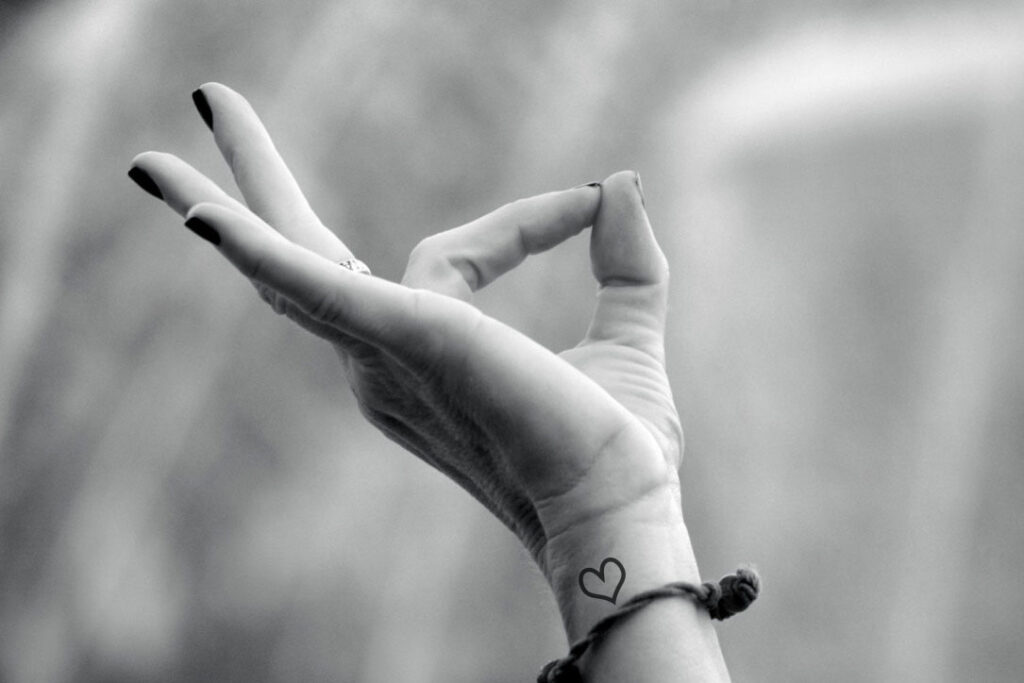 I start to play around with my favorite mudras. Then suddenly, I am a total mudra gangster. As days go by, my mudra affiliation finds it way more and more into my yoga practice. Similarly, mudras fly freely around the house. Moreover, my ever-so-mindful mudra intentions are graciously sent out OG style from behind the wheel. I am absolutely hooked. Before long, the medicinal uses of the mudras by the Hindus, and the meditative approaches of the Buddhists inspire me. Insidently, I know I need to share my new-found mudra practice in a bigger way…but wasn't sure how.
Thug-like Style Parameters Prove to be Impossible
Aside from yoga, my passion for style and shopping runs deep. I keep a casual yet edgy look. Anything rock and roll, or against the grain blows my skirt up. Therefore, when I decide to identify as a yogi, remaining true to my thug-like style parameters proves to be impossible. The struggle is real. In short, the yoga-inspired t-shirt market had failed me. However much I love and honor the incantation of the OM , my look requires a little more edge. In similar fashion, dream catchers and breezy inspirations are great. But, they lack the grit that identifies me. As my keyboard clicks away search after search, I close in on an answer. What the market needs is a brand that encompasses both "soul" and "street." Ideally, one caters to the rock and roll that pumps through my veins.
Go OM Yourself is Born
I search into the night for just one shirt that brands ME TOO as a seeker…a yogi. I wanted to identify. Perhaps because, now as a certified teacher, I have something to offer. I was compelled to share "the yoga" in every way, as is true for any real practitioner of wellness. However, all my effort presents no avail. After months of seeking, I sit at my desk, in the wee hours, and attempt yet another Google search. But once again, it's a time suck. All my browser returns are different variations of the same OM-symbolled shirt. I was over it. With a huge exhale and much frustration I slam my laptop shut and mutter, "Go Om Yourself!" The rest is history…and Go OM Yourself for the edgy yogi soul is born.
Check us out now!
Since then Go OM Yourself continues to grow and evolve. As a result, two years later, the line now includes a few collections that sing to the rock-and-roll yogi soul. As the brand mission is to promote joy, bold individuality and a spiritual lifestyle that colors the human experience with such a vengeance, that it takes your breath away on a daily basis.
Check out the store …feed those unruly sprites that live in the space just behind your heart. They crave a little edge with their love and light.